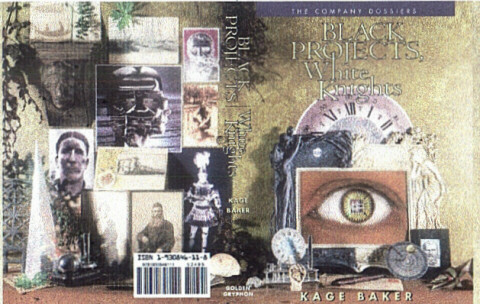 Cover art by J.K. Potter


A STARRED REVIEW IN PUBLISHERS' WEEKLY!
"...Baker masterfully handles characters and plots. These stories rank among the finest recent work in the field."



AND FROM LIBRARY JOURNAL'S BOOKLIST:


"What could be better than a new novel of the Company? A collection of the Company's mysterious, powerful operatives' highly entertaining adventures.... Funny, poignant, thought-provoking, altogether excellent stories."

Here all in one place are some of the first Company stories to see print, as well as more recent material, including the Alec Checkerfield stories. In addition, three new stories appear in this collection for the first time anywhere.

The Hounds of Zeus: It was supposed to be a foreword. It turned into a mini-story. More insights provided into the mystery? if you've been paying attention.

Noble Mold: First appearance in print of the Botanist Mendoza and Facilitator Joseph.

Smart Alec: The first of the Alec Checkerfield stories. A good boy. A bad machine. Together, what might they accomplish?

Facts Relating to the Arrest of Dr. Kalugin: A Halloween story with a difference.

Old Flat Top: New! And very, very old. A few good men in a Neolithic world. It ain't pretty.

The Dust Enclosed Here: Alec Checkerfield returns. William Shakespeare guest stars.

The Literary Agent: One of Joseph's lesser-known exploits. Robert Louis Stevenson guest stars.

Lemuria Will Rise! Wherein the Botanist Mendoza takes a holiday and discovers that the truth is out there-- in Pismo Beach.

The Wreck of the Gladstone: A Victorian adventure featuring Nan, Kalugin and Victor.

Monster Story: Alec Checkerfield again. Very scary indeed. Can you find the monster?

Hanuman: The Botanist Mendoza meets? well, let's just say he's Tarzan's opposite number in Evolution's cold war.

Studio Dick Drowns Near Malibu: Joseph takes a powder and accidentally saves a mortal's life. This kind of thing keeps happening to him...

The Likely Lad: Alec Checkerfield, smugglers, controlled substances and the Mystery of Life. How do they fit together?

The Queen in Yellow: New Too! Literature Preservationist Lewis visits 1914 Egypt and rescues a princess, sort of.

The Hotel at Harlan's Landing: Also New! Two minor characters on a dark and stormy night in history, briefly illumined by the flash of memory racing death...

Each story has an individual introduction giving a little insight on where it came from, or a brief speculation on the subject matter. Some of the stories are integral to the gradually unfolding epic of the Company; others just arose out of nowhere, blinked, drew breath and walked off into lives of their own. BLACK PROJECTS, WHITE KNIGHTS stands outside the series, precisely at the midway point. After this, plot threads will be gathered up and questions answered.

For now, curl up by a fire, or a window with a view, and read...






To Mail The Author:

LE FastCounter