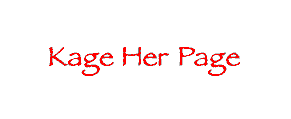 NICE NOTICES
"The debut of a major talent. Kage Baker is a fresh, audacious, ambitious new voice, wry, jazzy, irreverent, sharp as a razor, full of daring, dash and elan, sometimes surprisingly lyrical. She is also one hell of a storyteller. If you're reading something by Kage Baker, fasten your seat belt - you're in for a wild ride."
-Gardner Dozois, editor of The Year's Best Science Fiction
"Baker's characterizations are robust and detailed, as is her development of the historical setting ... (Readers) will recognize in Baker a fantasist of considerable promise."
-Publishers Weekly
"A narrative that sparkles with wit ... A highly impressive and thoroughly engrossing debut."
-Kirkus Reviews
"Clever ... Baker draws a colorful portrait of life in 16th century England. Into this she inserts an unusual mix of mortals, all-too-fallible immortals, a generous dollop of antic wit ..."
-San Francisco Chronicle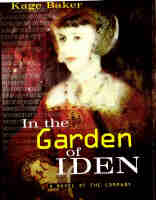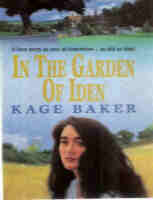 American Edition *** English Edition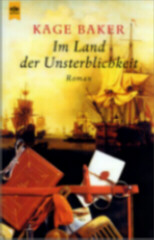 Avon Paperback Edition***German edition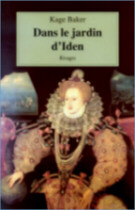 French Edition
US hardcover art by Michael Koelsch; UK hardcover art by Gary Blyth; US paperback at by Tom Canty

N THE GARDEN OF IDEN was influenced in part by long familiarity with Tudor-era England and the works of Shakespeare: first introduced to him in movies and children's versions of his plays.


ther influences were a life-long interest in conservation and life sciences, most notably botany, and a preoccupation (along with many of my readers, I assume, judging from the X-Files's popularity) with conspiracy: Somebody Somewhere is running the world behind the scenes. These varied interests, combined with a couple of personal crises, coalesced into In The Garden of Iden and subsequent novels, novellas and short stories about Dr. Zeus Incorporated. One of the themes explored in Iden and its sequels is the question: can any group, no matter how benign its intentions, intervene in history without inevitably becoming responsible for the same evils it sets out to prevent?



nspirations: Some of the immortal operatives owe a certain debt of personality to the eccentric scholars, underpaid character actors and lunatics with whom I had the honor of working street theatre over a period of twenty years. There really was an Alexander Iden who captured a rebel leader in his garden in Kent, during the Wars of the Roses, and all of the political and religious turmoil occurring during Mendoza's stay in England is described accurately.



uestions: What ought one to do? Be passionately activist or tend one's own garden? How much should one save? What happens to people who devote their lives to a cause? Why do we lose our hearts' desire in the very act of obtaining it? What happens to people who sell their dreams? WHY IS LOVE SO PAINFUL AND WHY DO PEOPLE YOU LOVE DIE???




HOT TIPS


Want to hear some Renaissance music? Ever wonder what a sackbut sounds like, let alone a great bass racket? Check out The Field of the Cloth of Gold, by the Musica Antiqua of London. It's put out by Amon-Ra Records, CD-SAR 51. Most of the music dates from 1520, but the Top Ten didn't exactly change on a weekly basis back then, KZUS notwithstanding.
If you're interested in the music of Galicia, look up The Chieftains' Santiago, RCA Victor 09026-68602-2.



HOTTER STILL!

Check out the soundtracks for Shakespeare In Love and Elizabeth! Some great courtly dance bits, especially Elizabeth's track No. 6, Coronation Banquet. The Mozart at the end is a little bizarre, but what the heck ...



AND YET MORE ...


Want to hear Mendoza's favorite pavane? I found a recent recording on the CD Arbeau: Orchesographie, by the New York Renaissance Band, Arabesque #26515. It's the very first track.


To Mail The Author:

LE FastCounter